Hearing one another's voices reading characters in a story helps your group live through the lessons and challenges of the story together. This causes the group to grow in the real community in which they live beyond the story, indeed, to create their own stories in the world they are given today. Stories voiced in script form are used as centerpieces for interpersonal interaction and discussion.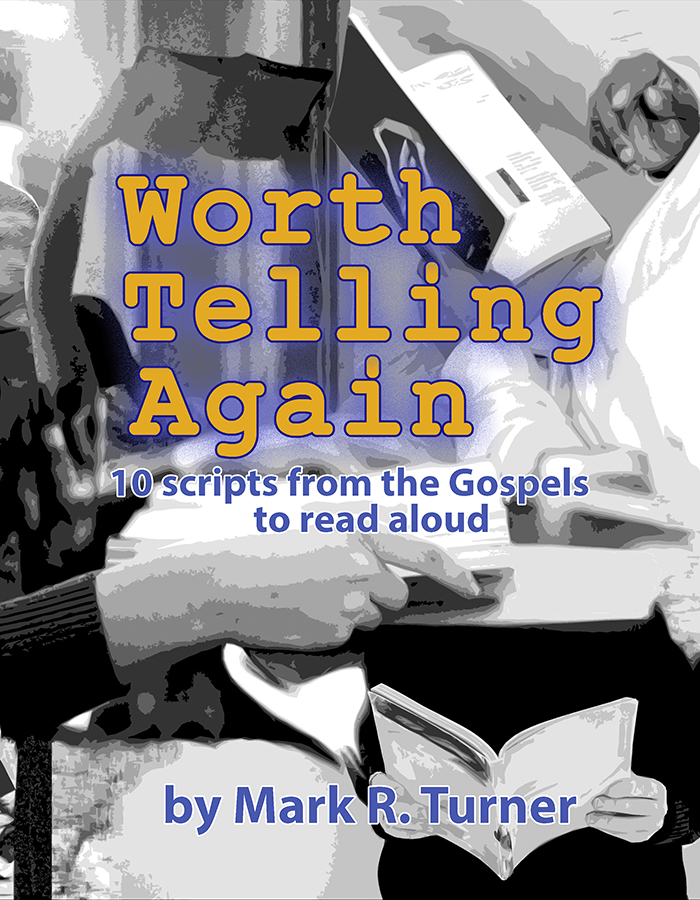 Your group can use our book of scripts, Worth Telling Again: 10 scripts from the Gospels to read aloud, or choose other scripts. You can book our facilitators to moderate your group experience, or follow the steps we recommend on your own.
Advantages of Using Our Book
The scripts in our book, Worth Telling Again, have been carefully voiced to distribute narration description and character dialogue between all readers in an active style. Each script is economical in language and length to provide time for discussion within a group meeting. Options are suggested for smaller and larger numbers of readers. The scripts are in standard theatrical format which aids in reading and are 8.5″x11″, spiral bound. These conventions are recommended for those wishing to create their own scripts. Read more on the book including Table of Contents by clicking HERE.
You may choose to buy a copy of our book for each participant, or one copy and a low cost license to duplicate individual scripts.
To buy books click the button below. To buy a license to duplicate scripts click HERE.
Reading Series and Listeners
Group Aloud can be experienced once, as a regular interest group, or in a series of four to six sessions. It is well suited as a Lenten and Advent activity, or a summer reading program. The group may want to increase the value of their private sessions by performing the scripts for an audience.
Another excellent practice is to invite both readers and listeners to the reading sessions. Some people prefer to only listen and then participate in the discussion from that perspective.
How to Organize a Reading On Your Own
Purchase a copy of the book and choose the script(s) around the season or objectives of the event(s). Assign a person who has an affinity for a given script to study it, coordinate the casting and lead the rehearsal (if any) of that particular script. This person may also be the best one to moderate the conversation time.
Schedule the best times and intervals between meetings and reserve the venue.
Decide the appropriate conventions of the events, i.e.: how to cast and distribute parts, how much rehearsal time is given (if any), discussion methods, etc.
Publicize the event(s) and get people to RSVP, or sign up, indicating if they are interested in being a reader or a listener.
Obtain the number of scripts needed for those who want to be readers by a.) purchasing enough books, b.) making the purchase of a book required for participation, or c.) purchasing a license at horizongate.com to copy pages out of one book.
If refreshments are planned, organize and assign tasks involved.
Cast the characters and, if the rehearsal method is chosen, rehearse the story before each event.
Set up the venue to facilitate maximum interaction between all participants, i.e.: circle the chairs, provide music stands or a common table to sit around for readers' scripts, have an area for readers to present from, consider whether readers should stand, sit or both, etc.
At the event read the given story for that event with well-planned breaks and refreshments.
Facilitate the conversation stimulated by the story reading. Have appropriate questions prepared if needed to stimulate discussion.
To learn more and discuss how to adapt Group Aloud to your community, please e-mail MarkandDonna at horizongate.org